Explanation
: John Xenakis asked me to write a summary of my methodology for evaluation of Crisis Wars, since I am one of the few to have applied a generational analysis to dozens (now hundreds) of places and times. The following reflects my opinion alone. I usually agree with John on these things, but there are some areas of contention.
I suppose the best way to start this is with a discussion of how Generational Dynamics mechanism compares to that of Strauss and Howe:
William Strauss and Neil Howe, through years of hard work (studying diaries, reading histories, theorizing, etc.) slowly developed their conception of a generational cycle, a 20-year set of four generational archetypes recurring every 80 years, accompanied by equal-length societal eras, or turnings. This was first laid out in their 1991 book,
Generations
, and was more explicitly codified in their 1997 book, the
Fourth Turning
. The following diagram summarizes their conclusions about the saeculum (the generational cycle + the historical cycle) quite neatly: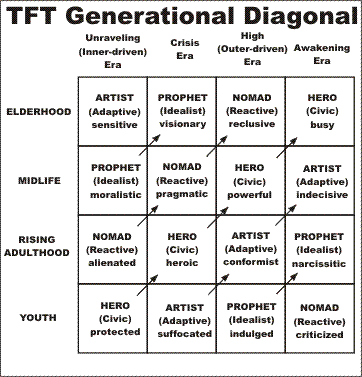 For example, in the United States, the 1929-1945 era is considered to be a
Crisis
/Fourth Turning, the 1945-1963 era is a
High
/First Turning (many use the term 'Recovery' today), the 1963-1984 era is an
Awakening
/Second Turning, and the 1984-2001/5/8 era (loads of disagreement on the end date here) is an
Unraveling
/Third Turning. Similarly, the G.I. Generation are '
Heroes
,' the Silent Generation are '
Artists
,' the Baby Boomers are '
Prophets
,' Generation X are '
Nomads
,' and the Millennial Generation are 'Heroes' again. Generational Dynamics was developed from Strauss and Howe's framework, and while it retains the basic generational paradigm, the methodology is a bit different. What John J. Xenakis did was apply the Strauss and Howe mechanism to regions and time periods throughout all of history with an open mind. He felt that some relatively minor revisions (most of the S&H structure is maintained) needed to be made, and together with his work on international generational analysis, predictions, and finance-related matters (among other things), Generational Dynamics was born.
The differences between the S&H and GD mechanisms are numerous (if mostly minor), but the main one probably relates to the treatment of the Crisis. Put simply, Generational Dynamics uses the Crisis as an anchor for the saeculum, with the Crisis climax launching the next generational cycle. What does the anchor metaphor show? Well, I suppose it means that it's impossible to 'generationally bypass' the Crisis, that the Crisis is the psychological culmination of the preceding saeculum and the defining moment for the first few decades of the next, and most importantly, the generations are unified so the following cycle arrives standardized (for example, if there were some generational hiccups due to immigration or a particularly long or short mid-cycle period). I have a quick quibble with John on this last point. He has previously
asserted
that only a Crisis War can unify; I think otherwise. I'll go into more detail on this toward the end.
A Crisis contains a few segments – I'll use America's most recent Crisis, The Great Depression and World War Two, as an example: The Catalyst begins the Crisis era with a bang, such as the 1929 Stock Market Crash; The Cascade Phase is an era of increasing misery and societal directionlessness (1929-1932ish); The Regeneracy unifies society (I see two Regeneracies—the era around FDR's first election and the 1941 Pearl Harbor attack); the Climax... well, duh, but I go into more detail below (1944-1945 campaign); and the Resolution wraps things up and ends the Crisis era (V-J Day).
It's
critical
to remember that both the Fourth Turning Theory and Generational Dynamics are social cycles, and the events that we associate with specific turnings are corollaries to the changing social dynamics. However, Generational Dynamics holds that certain events can actively alter the way generations interact, especially in the Crisis. We've already established, on a theoretical basis, that the Crisis is fundamentally different from the three other turnings. The same holds true for our empirical analysis: Unlike the first three turnings, which are relatively fixed in length (save for an intrusion of the Crisis), the crisis is highly variable, lasting as little as two years or as many as 25. As the generational constellation progresses in a Crisis era, there is an increasing propensity toward attitudes reminiscent of a climax, but this can be altered.
Contrary to as often characterized, the climax is not an event. Rather, in extensively and intensively studying various saeculums, we have found that the climax (and the Crisis) can be mapped or mirrored using events as our guideposts. A Crisis climax is the series of moments during which human suffering and the loss of life are treated as tolerable in the pursuit of a resolution to the Crisis. In the previous two American cycles, this reality was expressed in the post-Gettysburg environment during the Civil War, particularly during Grant's Overland Campaign and Sherman's March to the Sea; during World War Two, it spanned from the D-Day invasion of France until the dropping of two nuclear weapons upon Japanese civilians.
This 'climax sentiment' can be modified when conditions change. The most obvious example would be a time where a society was the victim of an unexpected invasion by a hostile enemy -- when a civilian populace is threated during a Crisis, the willingness for sacrifice should increase dramatically. Here is Strauss and Howe's description of the climax:
The Crisis climax is human history's equivalent to nature's raging typhoon, the kind that sucks all surrounding matter into a single swirl of ferocious energy. Anything not lashed down goes flying; anything standing in the way gets flattened. Normally occurring late in the Fourth Turning, the climax gathers energy from an accumulation of unmet needs, unpaid bills, and unresolved problems. It then spends that energy on an upheaval whose direction and dimension were beyond comprehension during the prior Unraveling era. The climax shakes a society to its roots, transforms its institutions, redirects its purposes, and marks its people (and its generations) for life. The climax can end in triumph, or tragedy, or some combination of both. Whatever the event and whatever the outcome, a society passes through a great gate of history, fundamentally altering the course of civilization.
Now that we've established some of the basics, we should be able to recognize the signposts that indicate the state of the generational cycle. It's virtually impossible to grasp the totality of an era without living through it, but fortunately for us, plenty of indicators are at our disposal. In brief:
A Recovery is characterized by the public's need for order and stability.
An Awakening is characterized by a generational conflict and social upheaval.
An Unraveling is characterized by institutional and societal decay.
A Crisis is characterized by social unification, institutional renewal, and the climax tendencies described above.
(Note: In my experience, identifying generational archetypes is considerably more challenging and time-consuming than identifying individual turnings.)
Of these, the second and fourth turnings are the most prominent, like summer and winter. They are normally identified by what we see, so we try to make a case for them. (We'll show in more detail how Crises are identified later.) However, the first and third turnings are normally
falsified
by what we see. For example, I know the Egyptian Revolution doesn't take place during a Recovery because the societal reactions to the unfolding chaos weren't consistent with a Recovery Era. As the Crisis is both the most conspicuous and decisive of the four turnings, most analysis begins here, and the other three turnings are constructed from this point. There's enough information above and in the link provided to get a sense of the essence of a Crisis, so we'll show how to mirror this societal sentiment. First, some additional guidelines (not rules, these theories are constantly being revised) to assist in identification:
[*]For generational purposes, the climax is the end of the Crisis era. The S&H defined 'Resolution' is almost always political, not societal in nature, and may occur in the Recovery.
[*]The generational constellation does not always match its expression. For example, extremely authoritarian governments may often suppress Awakening events. Recall that the cycle continues unabated in such scenarios. However, if a
generational fourth turning
lacks a climax (a possibility if there is little to help increase the willingness for sacrifice), a generational fifth turning will emerge 20 years after the start of the fourth turning.
[*]The Recovery, Awakening, and Unraveling each last around 20 years, with very little variance. (There is a slim chance that a society may have different standards of life phases i.e. an adult is 25, not 20, in a society X). The Recovery tends to be a little shorter. An Unraveling may be cut short by a Crisis, since the fourth turning generational alignment is nearly in place. The Crisis lasts as long as it takes to reach the climax.
[Note: Most of this can probably be deduced
a priori
, but since there is so much reliance on the validity of our premises (which most likely have not been satisfactorily established to a skeptic's eye) studies have necessarily depended on empirical observation to be reasonably validated.]
I approach this final section with a little trepidation. As someone who has some experience studying this stuff, I can only say that any strict method one can choose will fall short. Human action is immensely complex, and while we simplify it by focusing on societal trends, it's not as neat and orderly as we might prefer. With experience, it really doesn't become that much easier to make these judgment calls, but your decisions will be more accurate. You get a feel for the whole process, and this is far more indispensable than any methods that can be taught to you.
The first thing I do when studying the generational history of a society is to create a list of all possible Crises. This is determined by the significance of an era, and Crises are always significant periods. However, not all Crises will stand out immediately. Some are downright hidden, such as Britain's mid-19th century one, where there was the potential for the nation to get involved in the American Civil War. Naturally, the most common type of Crisis is a Crisis War. Back on the TFT forums, I posted a pseudo-combination (there were some changes) of John's two algorithms – taking the objectivity of the first with the intuitiveness of the second. Combined, I believe they serve as a good starting point for beginners evaluating a Crisis War. I'll repost it here, with slight modifications:
I actually like the Crisis War Evaluation Algorithm. It serves to allow for ease of evaluating potential crises without a detailed generational analysis (which would look at certain individuals, a time consuming process). The algorithm goes like this:

If the war is very significant, it is probably a crisis war. If it is not significant than it cannot be a crisis war.
If the war has high genocidal violence, it must be a crisis war. If the war does not have high genocidal violence, it probably isn't a crisis war.
If the war is highly politicized, it cannot be a crisis war. If the war has non-political pursuits, it probably is a crisis war.

I think this is great since it gets to the core of the differences between a crisis war and non-crisis war. The problem lies in determining the significance, genocidal violence, and politicization. We have a pretty objective list, but getting there involves more subjective methods.

I think a combination of the old plus and minus method that would go into a certain category -- such as significance, would work very well. At the very least, it is worth a shot.

As it turns out, not all crises contain your standard definition of a crisis war. If the evaluation algorithm could be expanded to allow for the inclusion of all crises or nearly all crises (I doubt its possible to use an algorithm like this to determine if Iceland had a crisis in World War Two). This would mean civil wars and guerrilla wars, as well as times of high instability with radical change.

So, with that, I'll propose a first draft. Keep in mind that some of these questions may not be totally applicable to a situation. It's hard to commit genocide against a foreign power when you are on the defensive the whole time! Also, remember context. For America, World War One will certainly be remembered for centuries, but it will be remembered by name only.

A '+' and a '–' counts as 'one' and 'negative one' respectively; a '++' or '--' counts as 'two' and 'negative two' respectively.

What makes a time period significant?

+ sign indicates significance

Was the nation's foreign policy greatly changed for decades to come (+), or did the previous foreign policy remain (-)?
Was the nation's economic policy greatly changed for decades to come (+), or did the previous policy remain (-)?
Did the war have a decisive conclusion (+), or was there a stalemate (-)?
Is/Will the war be remembered for centuries (+), or will it be forgotten (-)?
Was there a major governmental change (+)?
Was a historically important or major city captured (+)?
Was there a major social change (I'm thinking of stuff like the end of slavery or serfdom) as a result of the time period (+)?
Did the nation pursue punitive punishments against the opposition (-)?

[*]Dividing threshold is +1

How do we determine the intensity, willpower, and energy?

+ sign indicates high energy

Was there a pursued desire for ethnic cleansing without much national opposition (++)?
Was there a sustained program of mass murders, mass rapes, massacres, torture, destruction of entire towns (with inhabitants), forced relocation of huge populations of people - sustained over a period of months (a single battle doesn't count) (++)?
Were civilians targeted without much national opposition (++), or did the nation go out of its way to protect civilians (--)?
Is there a well-defined a clear climax as described by Strauss and Howe (++), or not (-)?
Was there a "D-Day" type mass assault, a willingness to sacrifice one's own forces for victory (+), or not (-)?
Was there a refusal to capitulate, a willingness to fight to the death, even when defeat is almost certain (+), or was there an early capitulation (-)?
Were the goals pursued very enthusiastically (+), or somewhat passively (-)?
Was there a massive revolt that spiraled out of control (+)?
Was there a massive surprise attack on the enemy (+)?
Was there a scorched earth policy to be used on enemy territory (+)?
Did the nation perpetuate devastation on the enemy (+)?


[*]Dividing threshold +3

How do we determine political considerations?

+ sign indicates high politicization

Did the war have sustained high public support when things went wrong (--), or was it unpopular (+)?
If unpopular, was there simply political controversy (+), as opposed to violent conflict (--)?
Were there political pauses (+), or were such pauses unthinkable (-)?
Was the cause of the conflict based on old fault lines (-), or was it a relatively new issue (+)?
If a civil war, was it between political parties (+), or was it between ethnic or religious groups (-)?
Was the nation reluctant to go to war after it was triggered (+), or did they pursue it enthusiastically (-)?
Was the cause of the war exogenous (+)?
Was there a use of reasonable triggering political objectives for initial mobilization or termination (+)?
Was initiation part of a power grab (+)?

[*]Dividing threshold +0

Now, once one has determined if the war was significant, pursued energetically, or politicized, plug it back into the algorithm at the top.

Let me know what you think! This is a first draft, and there is certainly more to add.
I've tested this theory out on several different scenarios. It doesn't work all the time: An honest evaluation of the Great Patriotic War for the Soviet Union shows an intensity well above the given threshold, but as long as it works *most* of the time, it's a useful tool. However, I would strongly recommend further study. In particular, determine whether your analysis of the war is consistent with what one might expect from a generational Crisis/Recovery/Awakening/Unraveling era. Here, context is paramount. There might have been an atypical reluctance on the part of the American people to get involved in the Second World War, but there was no real "fault line" present at the time. Furthermore, America pursued the war extremely enthusiastically after Pearl Harbor. Similarly, President Nixon may have dropped more explosives in Southeast Asia during the waning days of the Vietnam War (this was known as Operation Menu) than all those dropped during World War Two combined, but it was conducted in secret due to intense opposition to the war from the American people. Such contextual understanding requires more than a cursory analysis, and the ability to quickly and effectively make these subjective evaluations about what is important and what is not improves with experience.
Short of a Crisis War, one is most likely to see an era of high instability, with periods of intermittent chaos, coups and revolutions, etc. And
short of that
, there needs to be a significant period of time where there are a series of identifiable panics and shocks—something that can reasonably catapult society toward that climax sentiment. This may be the threat of 'genocidal warfare' or something else. After your Crisis has been identified to your liking, test it. Does a clear Recovery Era follow? Does an Awakening begin approximately 20 years after your climax? And an Unraveling after that? You are, in a sense, constructing a narrative in your mind. Gaps can be filled in time, but information that seemingly runs contrary to generational theory must be explained reasonably. Otherwise, you haven't got a thing.
HTH.