The nation of Yemen is facing a triple threat:
A growing civil war between the Sunni government army and the
Shia Houti rebels. This is turning into a proxy war between Iran and
Saudi Arabia.
A growing al-Qaeda presence. Al-Qaeda in the Arabian Peninsula
(AQAP) has been conducting terrorist attacks on Yemeni and Saudi
officials.
A growing southern Yemen secessionist movement.
In a letter delivered last week, President Obama promised to help
Yemeni President Ali Abdullah Saleh in his "fight against terrorism."
** Escalating civil war in Yemen threatens to pull in Iran, Saudi Arabia and U.S.
** http://www.generationaldynamics.com/cgi ... 13#e090913
This could end up with American involvement in Yemen's civil war.
John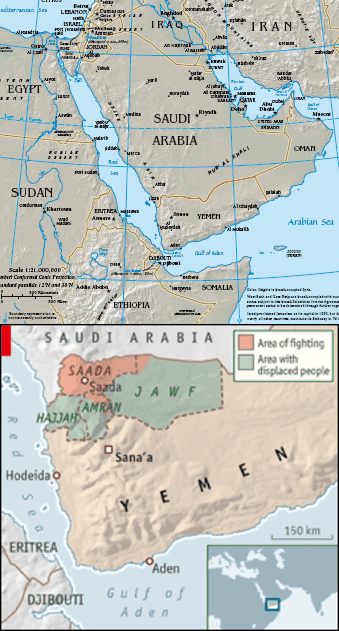 Fighting is increasing in the northern Saada province, and
displaced refugees are nearing the nation's capital, Sana'a.