** 25-Mar-2019 The Generational Dynamics Diagonal Flow Diagram
Alosito79 wrote: > This thread describes Hero Generations in the world. Not just in
> the US, but China, Russia, Britiain. They are many strong example
> of Hero Archetypes in many parts of rhe world. Describing their
> crisis's abd if they folded well or badly. Any thoughts?
When the Regeneracy occurs to launch a generational crisis war,
all generations unite behind the leader. The "Hero generation"
is like America's "Greatest Generation" -- they're the generation
who are the right age to be soldiers who go off to war
without complaining, in order to save the country and
its way of life, which are facing an existential crisis.
Once the crisis war starts, all generations are the same, in that they
all put politics aside and unite behind the leader. The
differentiation between archetypes occurs again after the war ends.
The following diagram shows are all the generations are united during
the crisis, but within two generations (by the Awakening era), all
four generational archetypes can be identified.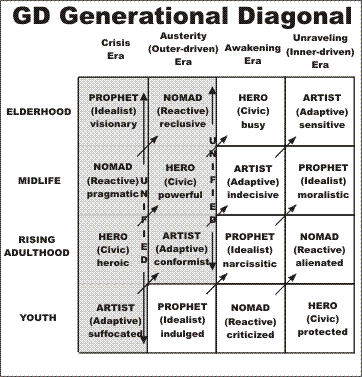 The Generational Dynamics Diagonal Flow Diagram